One can see the latest issue of the Tiger Tales for information on reunions.
CLASS & REUNION NOTES
The Class of 1964 will be having their 55th reunion over Aug. 9th & 10th.    They will gather the Friday night at the Historical Society and plans for Saturday are still being worked out.  To be kept in the loop reach out to John Bourisseau at jbourisseau@gmail.com.  
The Class of 1969 is planning their 50th reunion weekend for Blossom Time weekend in May !  Activities could include a round of golf on Friday, an informal get together at the Chagrin Eagles Club on Friday night  and of course the all class reunion at the Township Hall. The main event will be held on Saturday May 25th at the Village Martini Bar and Restaurant on E. Washington St., just east of the high school, beginning at 6:30 pm.  The cost will be $75.00 per person and will include heavy appetizers and an open bar. Please make your checks payable to the Chagrin Falls Alumni Association, 400 E. Washington St. Chagrin Falls, Ohio 44022.  Please write '69 Reunion in the memo line of your check. It is important that all checks be received PRIOR to April 1st to reserve your spot !  One can also pay online at https://chagrinalumni.org/donations/. Spouses / significant others welcome as well !  More details to follow but please mark your calendars and plan to attend.  Co- Chairs for this are Vicki Sutliffe (Vince) and Mark Schroeder. Committee members include Mark Spresser, Bobby Thomas, Mike Solether, Bob Bailey, Mary Ellen Schron (Doddridge) and Skip Regan.  Come and see your "old" classmates !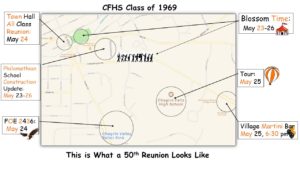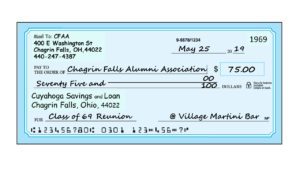 The Class of 74 is looking forward to our 45th reunion Blossom Time weekend 2019.  Reunion plans include festivities at the Chagrin Valley Athletic Club on Washington Street on Saturday, May 25th from 6-10PM.  Cost is $25 per person with a cash bar. Further updates and additional weekend plans will be provided on our class FB page, and any questions can be directed to Ted Kagy (tedkagy@aol.com) or Pam Fischley Hermanson (PEMM222@aol.com).  A block of hotel rooms has been arranged for those needing accommodations and details are on the FB page or by contacting us. We are looking forward to seeing you there!
The Class of '79 will be celebrating their 40th reunion with an event Saturday, May 25 of Blossom Time weekend at the Bainbridge Town Hall.  Please make sure that the committee has your most recent contact information: Jeff Baker (bake38@gmail.com), Sue Daniels (Susan.daniels@medmutual.com), and Cary Gluf (cjgdesigns@earthlink.net).  You can also get updates at the class Facebook group, CFHS Class of 1979 Reunion-40th.
The legendary Class of 1984 will once again convene for their 35th reunion in the friendly confines of Chagrin Falls proper. Chagrin is never the same after we invade!  We had an amazing turnout 5 years ago and would love to have a repeat performance. But it takes each of you to block your calendars on your iPhone or – for those anti-Apple rebels – your Android device. The dates? May 24-27, 2019.
We have a Facebook Group if you haven't joined yet. Just search for "Chagrin Falls High School Class of 1984."  We've got 141 members in that group! Ask to join. You only have to answer one question to pass the approval process – Who was our Senior Class Teacher of the Year?  Just answer Freya Zipperer and you are granted access.
Events for the weekend are TBD, but suffice it to say All Class Reunion Friday evening with nightcaps likely at a local drinking establishment that rhymes with "Beanville".  Saturday will likely be a day to hang and reunite with family and classmates and then have our big event Saturday Evening. Suggestions are always welcome. Sunday is parade tailgating with Tim Piai and Bubba Badal firing up a grill for breakfast and burgers while we await the longest parade in Ohio.
Let's try to celebrate Barry's Memory as well as our other classmates gone way too early the entire weekend – Mike Jung, Sarah Masters, and Dan Baldwin.
Let's do this. One. More. Time.
See you in May!  Stay tuned for more updates!
Love all you guys!
Your Humble Class Prez,
Matthew Harrington Hanley I
Hey CFHS Class of 1989,
We are planning a really fun and inexpensive 30th reunion for Saturday, May 25. It will be held at the Katydid Pavilion at Frohring Meadows located at 16780 Savage Rd. Bainbridge, OH 44023 (just off of E. Washington St).  The event will take place from 5pm – 8pm, rain or shine. Cost is $25 per person. Appetizers & BYOB. Casual attire. One can pay at  https://chagrinalumni.org/donations/ or send a check written to the CFAA to CFAA, 400 E. Washington St., Chagrin Falls, OH  44022. Please join our class Facebook site (chagrin falls class of 1989 reunion) for more information and reunion invite soon!
If you have any questions, please call Megan Thomas Robinson at 610-283-9615, Rachel Oler Franco 203-249-3891 or Jodie Lerz Huddleson 303-981-9730.
The Class of 1994 is planning a casual 25th reunion in Chagrin Falls – Saturday, May, 25th 2019.  Please visit our Facebook Page Chagrin Falls NinetyFour for updates:
https://www.facebook.com/chagrinfalls.ninetyfour. For questions, please contact Dana Matta at themattas@icloud.com.
Be ready to party like its 1999! The Class of '99 is planning their 20 year reunion for Saturday May 25th 2019 at 6:30pm at the Chagrin Valley Athletic Club. Make sure you are a member of the Facebook group "Chagrin Falls Class of 1999" to get further information.  You can also reach out to the planning committee Carrie Crawford, Jessica Giebel and Michelle Okuley at chagrinfalls1999@gmail.com.
The Class of 2004 is looking forward to gathering for the 15 year reunion on the Saturday of Blossom Weekend (May 25th).  Details are in the works. To keep in the loop join the class Facebook group "Chagrin Falls High School Class of 2004".  If you would like to join the reunion committee, then please reach out to Chelsea Bacher at chelseabacher@gmail.com,   
The Class of 2009 will be gathering on Saturday of Blossom Weekend (Sat., May 25th) for their 10 year reunion.  The location will be determined. If interested in helping to organize, then please reach Vince Coleman at colemavi@gmail.com.  The class Facebook group is titled CFHS Class of 2009.  
The Class of 2014 will be having their 5-year reunion on Sat., May 25th of Blossom Weekend. A location and time will be determined. If interested in helping, then please reach out to Tommy Collins t3collins.14@gmail.com or Dan Herbener at danielherbener@gmail.com. You can also visit the class Facebook group titled Chagrin Falls High School Class of 2014 to keep updated.